CYCJET UV digital printing system does not require plate making
2021-06-22source:access:999
Digital printing is not the same as printing digitization. The plateless printing mode represented by digital printing is only the digitization of printing. Traditional printing is also printing with plates. Its printing process is cumbersome, from pre-checking, imposition, pre-flying, screening and output of pre-press documents, as well as printing plate installation, ink volume, color and pressure, etc., which are very cumbersome. Respond to the current demand for smarter, more comprehensive, and more efficient printing processes.
CYCJET launched a color UV digital printing system in response to market demand, clarifying that digitization will become more and more important for printing companies. All aspects of the domestic market are in a period of rapid development, digitization, automated production and automated management.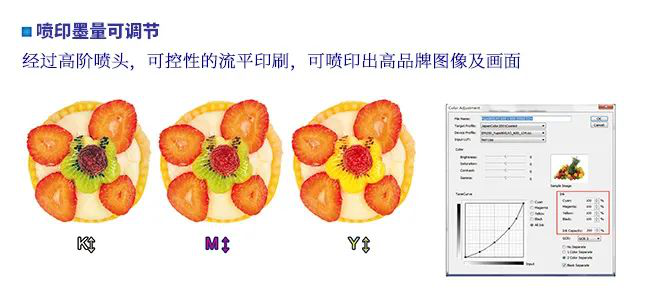 Printing digitization is the core competitiveness of future printing development. The Arnoldjet color UV digital printing system has the advantages of non-contact, low cost, fast speed, no need for plate making, adaptation to short runs, personalized customization, and environmental protection. Compared with traditional printing Technology, the color UV digital printing system can print variable data, variable barcodes, variable color labels in real time, and realize large-format continuous and complex pattern pipeline printing. It is suitable for non-plate printing of labels, textiles, ceramics, books and periodicals, and color digital printing systems. It has a wide range of applications. Industrial-grade printing equipment caters to the "small batch, multi-variety, short delivery time" enterprise order requirements. The digital pattern is exquisite, no plate making, no color matching, no beating, so as to print fine patterns and print The system has the characteristics of good effect and high yield.
CYCJET, as a well-known IoT logo industry provider of comprehensive solutions such as coding, system integration, post-press packaging automation, IoT smart factories, and big data platforms, as well as a platform builder for the IoT logo industry, and "one thing, one code, multiple One of the leaders in code assignment, tracking, traceability, internal control, and marketing of "Code-in-One Product ID Card" has always been committed to the R&D and production of coding and marking software and hardware to provide customers with high-quality products.
The CYCJET traceability system integrates product digital ID card management system, digital marketing management system, and Miguo code application transaction system, from production orders, purchase orders, upstream supplier stocking, raw materials into the factory to consumers, red envelope collection, traceability inquiry, Anti-counterfeiting query, full traceability, to ensure the authenticity, accuracy, completeness and traceability of the data.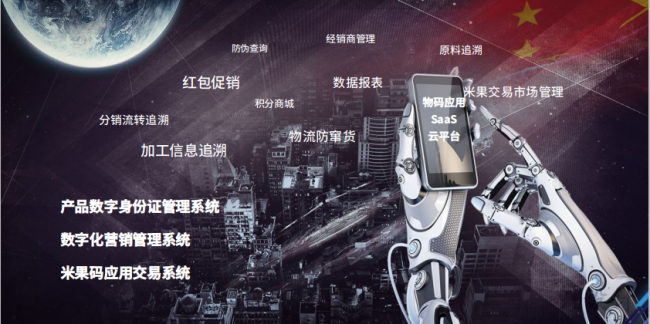 In addition, the CYCJET traceability system also has an exclusive points mall, which can query exchange records, shipper's name, shipper's contact information, and delivery address. Enterprises can also collect comprehensive information based on data reports to track the production process, consumption behavior, and The current market situation, etc., to change the marketing strategy and development positioning to achieve the purpose of efficient marketing management.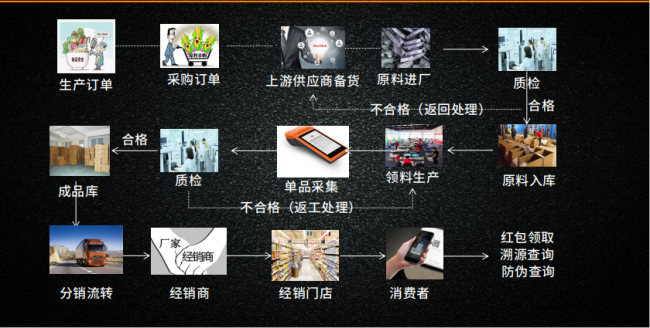 In addition, there are four highlights of the traceability system:
1. Production tracking: to realize the traceability of each smallest product, to facilitate the recall of the problem product and the accountability of the responsible person.
2. Red envelope promotion: Strengthen consumer participation, enhance consumer interest, and enhance consumer repurchase rate.
3. Building consumer stickiness: Enhance consumer satisfaction and enhance corporate brand value.
4. Informatization platform: speed up enterprise informatization construction and improve enterprise management.
CYCJET is the brand name of Yuchang Industrial Company Limited. As a manufacturer, CYCJET has more than 15 years of experience for R& D different types of handheld inkjet printing solution, Laser printing solution, and portable marking solution, High-Resolution Printing solution in Shanghai China.
Contact Person: David Guo
Telephone: +86-21-59970419 ext 8008
MOB:+86-139 1763 1707
Email: sales@cycjet.com