CYCJET handheld inkjet printer in the steel pipe industry identification application solution
2019-10-23source:access:3647
Steel pipes can be found everywhere in daily life, not only for transporting fluids and powdered solids, exchanging heat energy, manufacturing mechanical parts and containers, but also for building structural grids, pillars and mechanical supports, road bridges, ships and other industries.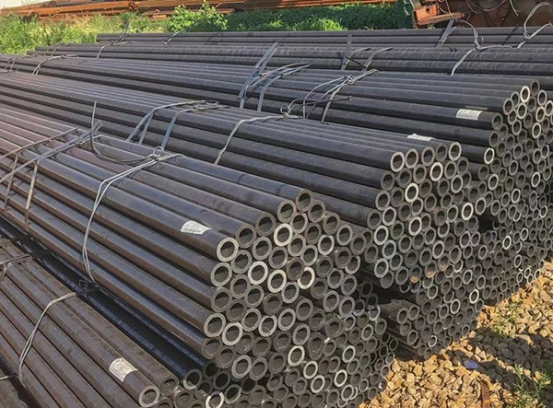 Steel pipe products have a wide variety of steel grades and specifications, and their performance requirements are also various. Therefore, there are strict requirements on the specifications of steel pipes. It is necessary to identify the batch number and diameter on the steel pipe products.
Because of the various sizes and specifications of steel pipes, it is not conducive to marking on the assembly line by online automatic large-character inkjet printers. ALT160Plus Large character handheld inkjet printers bring perfect identification application solutions for the steel pipe industry.

Since the storage area of the steel pipe is basically outdoors, the surface of the steel pipe will have rust after a long period of natural environment, etc. The steel pipe inkjet printer has high-bright white ink, which can print clear and beautiful identification information on the rusty surface. Other special inks can be selected as needed.
CYCJET carbon steel tube handheld inkjet printer is designed according to ergonomics. It is exquisite and compact in appearance, easy to carry, and has excellent endurance. It can be used for one person to complete the identification of steel pipe information for a long time outdoors.
For the printer equipment, it will work in different environments for a long time, which will cause the nozzle to be blocked or worn under the influence of temperature, humidity or dust. The CYCJET steel rail inkjet printer adopts the high-resolution printhead and has the advantage of not blocking the nozzle. Combined with ruby material nozzle, it is wear-resistant, high temperature resistant and corrosion resistant, which reduces the maintenance cost of the marking equipment.
Steel pipe enterprises can choose different types of CYCJET portable inkjet printers according to different marking requirements. CYCJET Small character handheld inkjet printers can transmit data through Bluetooth or mobile phone APP, and can print numbers, letters, Chinese characters or simple pattern between 1-18mm in height.
The ALT160Plus is an industrial-grade smart handheld inkjet printer that can edit content and adjust the printing parameters through various methods such as WIFI, touch screen and U disk. The printing height is 5-62mm, both in English and Chinese. , digital, QR code, complex patterns, etc. can be easily completed, and can also interface with the enterprise data management system to print dynamic data in real time.
As a brand of imported inkjet printers in China, CYCJET handheld inkjet printers are perfect in performance and quality, bringing perfect, economical and efficient marking application solutions for different enterprises and industries.

Telephone: +86-21-59970419 ext 8008
Website: http://www.cycjet.com/
Keywords:online automatic large-character inkjet printers
ALT160Plus Large character handheld inkjet
carbon steel tube handheld inkjet printer
Small character handheld inkjet printers