Cosmetic Package Inkjet Coding & Laser Marking Solution
2019-07-29source:access:1953
Abstract: The daily chemical industry has a wide range of product packaging and different materials, such as plastic/glass bottles, soft tubes, foil bags, small boxes, etc. Cosmetics is popular used by everyone nowadays. So assuring its quality and safety is great concern.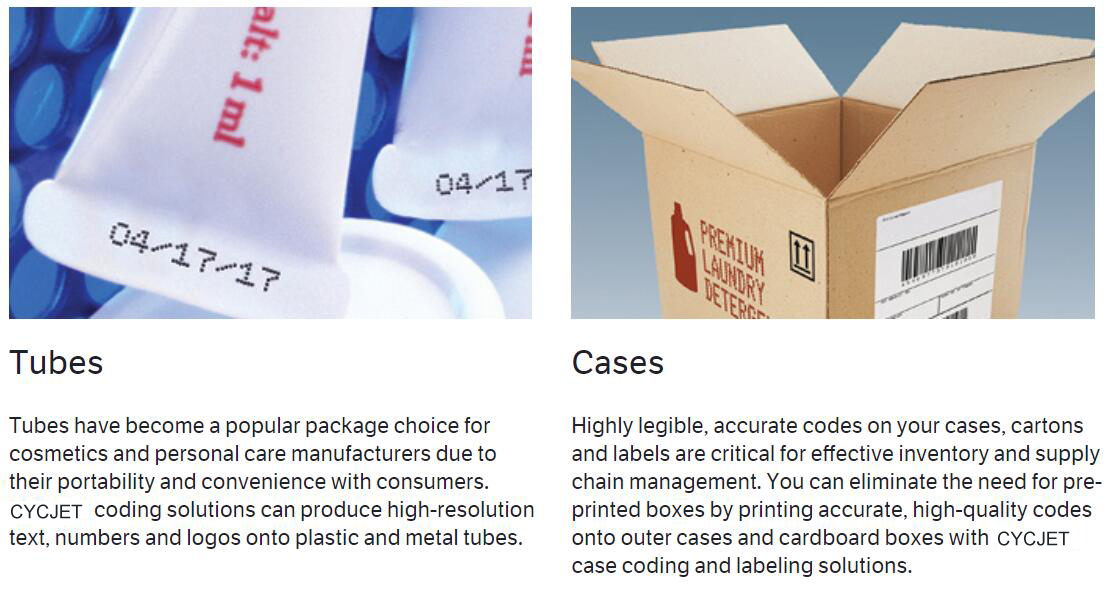 The product itself can be poorly encrypted, and it is extremely difficult for consumers to find a way to identify the authenticity of products to effectively curb fake sales. From this we can see that the simple and clear method of discriminating has become a consumer demand. This method must be beautifully designed and does not affect product sales and consumer experience.
Then, enterprises need to track the logistics information of each single product in the channel, monitor the phenomenon of stock pick-up from one-level to multi-level dealers through various means such as market surveillance and consumer-assisted inspection, obtain evidence, and master product circulation panorama. Ensure that every single product has its own path from production to sales. The source can be checked and traceable.
Thirdly, Consumer management requirements.
After consumers use cosmetic products, if the quality is better, at the same time, the traceability process of cosmetics is obvious, and consumers' trust is usually obtained. Consumers also repeatedly purchase other products produced by the same company and have higher repurchase rates. Increase customer loyalty. Enterprises can use these data to optimize the promotion process, reduce costs and risks, and provide targeted access to consumer information and buying preferences.
CYCJET portable inkjet printer are non-contact, fast, clean and durable, and cost-effective. Whether plastic materials, PVC, PE or glass, metal materials, etc., the coding technology can be competent, printing batch number, validity period, Chinese characters and other information. Full compliance with the relevant provisions of the national cosmetics industry license.
CYCJET desktop inkjet printer, which equips IP55 protection grade stainless steel structure cover, meets the diversiform packages in all sizes and shapes. CYCJET industrial inkjet printing machine apply non-contact inkjet printing technology, which makes the printings outstanding whether on the tiny glass bottles or tubes, whether on the soft plastic or carton packages.
Then, CYCJET Industrial inkjet printer adopts color touch screen, which makes the text inputting easier and clearer, WYSIWYW. Also, you can connect a mouse or keyboard with the expiry date inkjet printer, with which you also can control the printer for inputting printing information and adjust the PARAM. Total Stainless-steel body makes the batch number inkjet printer look more durable and beautiful, and is more suitable for industrial workshop. The industrial inkjet printer includes the XAAR print head, Samsung Micro-chip, which makes the printer more stable. It adopts Micro Piezo Technology; the software is quite easy and stable. The batch number inkjet printer can not only can print automatic date and time, logo, serial number, random code, barcode, qr code, it also supports multi-lines printing, can print variable items, like variable barcode, variable qrcode, datamatrix code, etc. Based on its high integration and stability, the CYCJET Industrial inkjet printer can meet 24hours continuous working.
Thirdly, patented UV inks can only be displayed under UV light, increasing the strength and effectiveness of anti-counterfeiting. Appearance of the appearance, clear coding, can increase the added value of cosmetics, help consumers identify genuine products, which indirectly promote the manufacturer's marketing.