PET Water Bottle Printing
2019-07-30source:CYCJETaccess:357
Abstract: CO2 laser marking machine is widely used in PET material marking, such as a variety of PET bottles, it is a high performance laser printer for online making machine.
CYCJET CO2 Laser Marking Machine special for PET Material bottles, thanks to the special CO2 Laser source, the bottle surface will get a clearly marking after laser printing. CYCJET developed the high speed laser marking machine, which combine high speed industrial computer, we design software and top quality hardware. These elements decided the laser coding machine could satisfy high quality & high speed online marking. For the Water & Beverage area, the flying laser printer could mark 40000 pcs PET Bottles, with 2 lines message.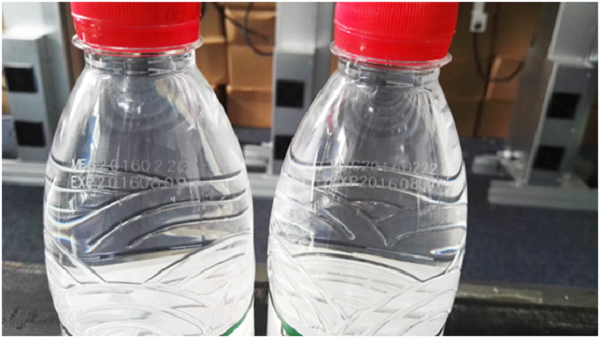 During printing process, the product no need stop but run on conveyor belt, greatly improve the production efficiency. The laser marking machine could satisfy industrial production requirement, it could cover most of area which inkjet printer application range. Because of laser printer special advantages, such as no consumptive material, no pollution, high working efficiency, it is widely used for medicine,wine,beverage, electronic industry, auto spare parts, clothes, plastic, pipes etc.

The working principle of laser marking machine: using the focused laser beam on the surfaces of different materials, the material surface will have a indelible marking. High pulse CO2 laser beam, controled by software to light or closed, laser will be focus again after through field lens, make the beam tiny and stronger. The printing will be finished after galvanometric scanner high speed shake. The printing effects is exposed the surface material substance evaportation, or have some chemical changes/physical changes after high pulse, high energy light heating. Or burned part of material surface(such as wood).