Piezo inkjet printer developing in building material industry
2021-04-09source:access:854
I often see some woodworking boards for decoration, stainless steel or aluminum alloy materials, and even some gypsum boards, marble boards, and quartz slabs. There are always some typefaces on them. Someone wonders what is the reason for this?
In fact, we should be able to find out that the contents of these codes are probably: product name, quality level, production date, inspection and inspection, corporate logos, and some individual details such as contact numbers and company names. These are the purpose of the manufacturer's coding, and I hope to tell consumers that one is to remember our manufacturer's brand, and the other is to understand all aspects of this product. Of course, what is more important is the manufacturer's commitment to consumers. Because of the coding, I tell you clearly that this thing is produced by me, and there is a guarantee for future after-sales quality problems.

As the application of inkjet printers becomes more and more widespread, the newlogo inkjet printers also change with the market and have new functions, such as anti-counterfeiting applications. Once a brand is up, it will be widely known, but imitation products will also emerge in large numbers due to the interests, and sometimes even the phenomenon of falsehood will be difficult to distinguish. In this case, we can make full use of the anti-counterfeiting function of the barcode inkjet printer and do some special and insignificant technical evasion to quickly identify the authenticity.

With the continuous improvement of material life and the improvement of people's consciousness, more and more industries have begun to pay attention to product logos, and understand that their own products are the key to brand creation, and clear logos can help enterprises' brand image. The coding application also extends from food and beverage, daily chemical washing, medical packaging and other fields to hardware and building materials, water pipes, cables, aluminum profiles, automobile manufacturing, logistics storage, data archiving and other applications.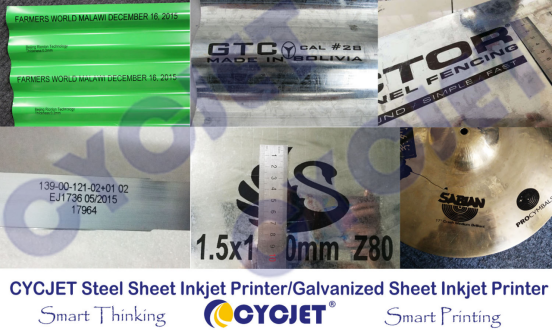 Clear identification, traceable production batch, can display the information of the enterprise, and can enrich the connotation of the product. In this year of intense competition, products want to stand out and perfect their own hard quality, and really need to invest in details.
CYCJET is a brand name of Yuchang Industrial Company Limited. As a manufacturer, CYCJET have more than ten years' experience for wholesaler and retailer of different types of handheld inkjet printing solution, Laser printing solution, portable marking solution in Shanghai China.
Contact Person: David Guo
Telephone: +86-21-59970419 ext 8008
MOB:+86-139 1763 1707(whatsapp)
Email: sales@cycjet.com
Web: www.cycjet.com
Keywords:
Video Link: