The Difference Between CO2 Laser Marking Machine and UV Laser Marking Machine
2022-07-19source:access:218
The processing method of UV laser printer is different from other laser marking equipment. CO2 laser coder is used for physical marking method by laser, while UV laser coder is processed by chemical processing method, mainly photochemical reaction. The difference between these two different processing methods is that the laser physical processing method mainly processes the surface of the product and material, while the laser chemical processing method can use the laser to penetrate deep into the product material for processing.
UV laser marking machine has extremely small concentration of light, no thermal influence, no impact on the surrounding area, suitable for finer processing, and more suitable processing materials. The UV laser processing process is called the "photo-etching" effect, and the "cold processing" has a high load of photons, which can break the chemical bonds in the material or the surrounding medium, so that the material is destroyed by a non-thermal process. It does not heat or thermally deform the inner layer and nearby areas of the machined surface, making it very suitable for fine machining.
Features of UV laser coding machine:
The beam quality of the UV laser printer is high, the spot is very small, and ultra-fine marking can be achieved; the 355nm output wavelength reduces the thermal impact on the workpiece; the galvanometer type high-precision marking head, the marking effect is fine and can be processed repeatedly; high-precision and fine spot, non-contact marking process, long-lasting marking effect;
UV laser is a cold light source, there is no thermal effect, the material is not deformed or scorched; the marking speed is fast and the efficiency is high; the whole machine has stable performance, small size and low power consumption. It is more suitable for processing materials with a large thermal radiation reaction; it can cooperate with the production line, automatic loading and unloading, automatic feeding and discharging; suitable for marking on most metal and non-metal materials;
CO2 laser marking machine performance:
1. High marking accuracy, fast speed, and free control of engraving depth.
2. The laser power is large, which can be applied to engraving a variety of non-metallic products.
3. No consumables and low processing cost.
4. Clear marking, not easy to wear, high engraving and cutting efficiency, environmental protection and energy saving.
5. Use the laser beam to expand, focus, and then control the deflection of the galvanometer.
6. Act on the surface of the workpiece according to the predetermined trajectory, so that the working surface is vaporized to achieve the marking effect.
7. The beam pattern is good, the system performance is stable, maintenance-free, suitable for industrial processing sites of large-volume, multi-variety, high-speed, high-precision continuous production.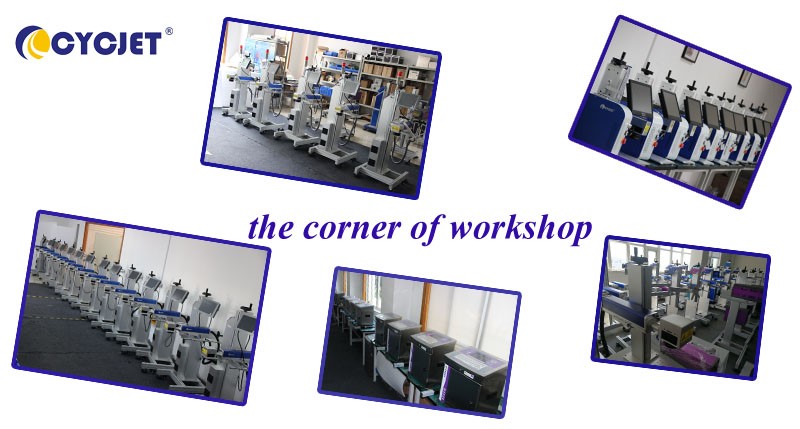 CYCJET is the brand name of Yuchang Industrial Company Limited. As a manufacturer, CYCJET have more than 16 years of experience for R& D different types of handheld inkjet printing solution, Laser printing solution, and portable marking solution, High Resolution Printing solution in Shanghai China.
Contact Person: David Guo
Telephone: +86-21-59970419 ext 8008
MOB:+86-139 1763 1707
Email: sales@cycjet.com
Keywords :
Working video: