The application of CO2 laser marking machine in food industry
2021-12-01source:access:886
In recent years, with the occurrence of a series of food safety incidents, people pay more and more attention to food safety issues, which once became the topic of people's discussion. There are many reasons for food safety problems, some of which are caused by ink printing on food packaging, which will not only cause pollution and harm people's health, but also cause the problem of making and selling fake products because of easy alteration.
In view of the above problems, more and more food manufacturers begin to use CYCJET Flying laser marking machine technology in packaging to replace the traditional inkjet printer. The laser marking on food packaging, fast and clear, the marking information can not be erased & removed by any chemical liquids, completely eliminate the hidden danger of human altered marking information, undoubtedly add another guarantee for food safety. In addition, the laser marking system no need any consumable materials, less maintenance and long lifetime.

Due to the wide variety of lasers, there are many materials used in food packaging. Different lasers will show different marking effects on different materials. Therefore, the selection of a suitable laser printer is very important for food production enterprises. At present, CO2 laser marker and fiber laser printer are widely used in laser code industry, the difference is mainly the difference of laser.
The output wavelength of CO2 laser is 9.3 ~ 10.6 μ m, and the power is from 10W to 200W, which is mainly used for non-metallic marking. The output wavelength of the fiber laser is 1064 nm, and the power varies from 10W to 150W. It is mainly used for marking metal or some plastic materials.
1;Marking of mineral water bottle
The laser marking on plastic bottles is a "hot working" process. The bottle body material is PET. The better marking effect can be obtained by CO2 laser marking machine. Usually, 9.3um wavelength CO2 laser is the best solution for PET bottles.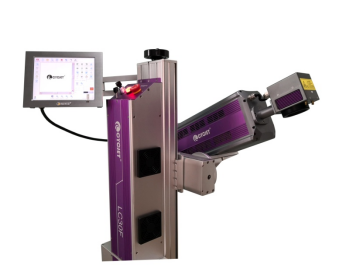 2; Carton marking
Carton marking is also a "hot working" process. Cartons can be divided into two types according to the color. Dark cartons can be marked with optical fiber or CO2 laser, while light cartons can only be marked with CO2 laser. Due to the poor absorption of light (white) paper materials to optical fiber, it is difficult for optical fiber laser marking machine to make traces on white paper, even if the printing speed is not fast, the effect will not be good. CO2 laser processing is mainly used to carbonize paper materials with CO2 thermal energy, forming dark traces and patterns. The dark (black) material has a better absorption of optical fiber laser. Because the surface of dark paper box is black coating and the inside is white or light colored paper, the optical fiber is used to mark and remove the black ,surface, revealing the light color trace of the inner layer to form a pattern.
3; Marking of plastic bags
There are many kinds of plastic packaging bags or boxes, including pet, PC, HDPE, PE, PP, ABS and PBT. Generally, if the packing bag is thick, CYCJET CO2 laser coding machine can be used for marking. The adverse effect of CO2 laser marking is that the heat is high, it is easy to burn through the bag or make the local deformation of the packing bag affect the appearance. If the color of the packaging bag to be marked is darker, the optical fiber laser can be used for marking. The principle is the same as that of the dark paper box. If the packaging bag is thin and the color of the marking position is light, UV laser marking may be a better choice. In addition, some materials such as HDPE, PE, PP.It is easy to burn when CO2 laser is used. Green laser or UV laser is a better marking method. The main body material of mineral water bottle is pet, which can be marked by CO2 laser.
In addition to the above different materials need to choose different lasers for processing, food manufacturers also need to configure laser code spraying equipment according to their production line capacity. At present, there are many domestic laser printer equipment manufacturers, and the quality of products is also uneven. If customers blindly choose a cheap laser inkjet equipment, it is likely to be greedy for small and cheap and suffer great losses. Because in addition to laser, laser code spraying equipment also has an important component is the marking head. The professional term in laser industry is vibrating lens. The marking head is a moving module, which is driven by a pair of motors with very fast response to control the laser track by two reflective lenses. The response speed and stability of the marking head play a key role in the production efficiency and stability of the laser code spraying equipment.
CYCJET is a brand name of Shanghai Yuchang Industrial Company Limited. As a manufacturer, CYCJET have more than ten years' experience for wholesaler and retailer of different types of handheld inkjet printing solution, Laser printing solution, portable marking solution in Shanghai China.
Contact Person: David Guo
Telephone: +86-21-59970419 ext 8008
MOB:+86-139 1763 1707(whatsapp)
Email: sales@cycjet.com
Keywords:
CO2 Laser Printer
CO2 Laser Marking Machine
CO2 Laser Marker
Optical fiber laser marking machine
CYCJET CO2 Laser Coding Machine
Video Link: