The food and beverage options available to consumers today are dizzying, and the number of brands is overwhelming. As competition intensifies, in order to continue to attract customers and maintain market share, manufacturers need to constantly introduce new products quickly. And this means that faster and more flexible production lines and coding solutions are needed more than ever before, so that manufacturers can quickly respond to market changes, efficiently implement production line upgrades and transformations, and enable brands to keep up with rapidly changing market demands.
At the same time, product identification needs have become more complex and diverse (for example, the use of QR codes has increased significantly), and the average logo length is expected to increase from 30 to 60 characters in a short period of time.
In addition, in order to achieve a series of goals such as less operator labor, lower maintenance, higher coding quality, fewer recalls, improved brand image, and improved tracking and traceability, innovative and reliable laser coding solutions are required.
Shanghai Yuchang helps you identify challenges and find answers!
Technical challenges that modern production lines facing.
As the speed of the production line continues to increase and the amount of product coding information continues to increase, the cooling time of the laser coder is becoming less and less. Today, the actual characterization time (also known as "application load factor") of laser coders has increased from 50% to 80%. The production environment of many factories, such as working temperature, fluctuates greatly, especially in the high temperature season in summer, the ambient temperature rises significantly.
In this case, if there is no efficient cooling system, the fluctuation of the ambient temperature will attenuate the power of the laser tube, thereby affecting the coding quality. In addition, the increase in the coding load will quickly cause the laser coding machine to overheat, which will greatly damage the laser tube and shorten its life; overheating will also cause 15 to 30 minutes of shutdown protection, seriously reducing the efficiency of the production line, causing unnecessary loss.
In addition, the in-depth integration of each station of modern production line machinery requires the printer to work effectively in dusty and humid environments, especially the scanning head, which often has to withstand liquid splashes.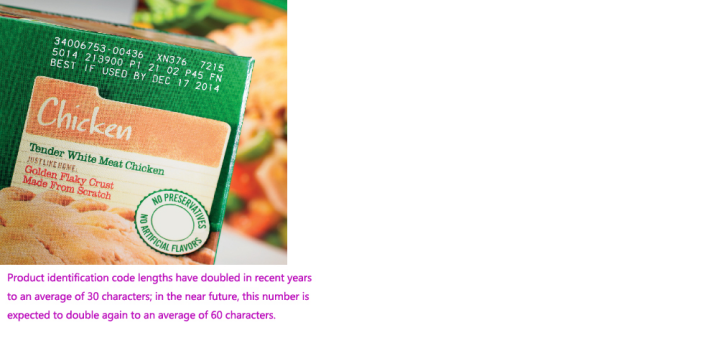 Smarter, faster and safer.

Shanghai Yuchang's CYCJET LC30F series is a professional laser coding solution specially designed to meet the stringent requirements of high-production lines, with a coding capacity of up to 1400 bottles or 600 packs per minute, support up to 60 characters of identification information, and can work 24/7.
Unique cooling system, efficient cooling air duct design. The high-efficiency fans in the middle of both sides supply air with positive pressure, and penetrate radially to the front and rear radiators to achieve fast and balanced heat dissipation of the laser tube and scan head (please refer to Figure 1).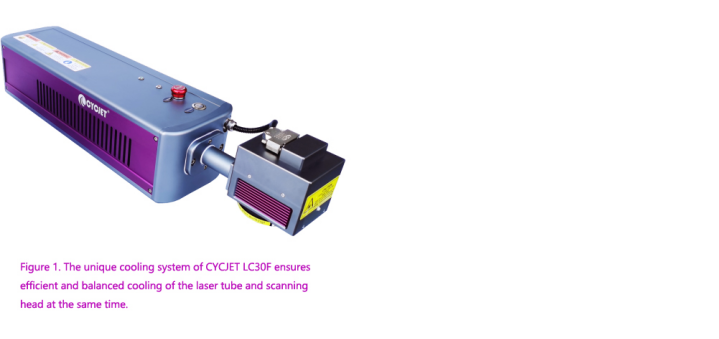 This efficient cooling system enables the CYCJET LC30F to operate at a wide ambient temperature of 5°C to 45°C even at high application load rates of 80%, without any impact on code quality. In contrast, many traditional laser coders actually only operate at ambient temperatures of no more than 40°C without shutting down or degrading code quality, and their application load rate does not exceed 60% (see Figure 2).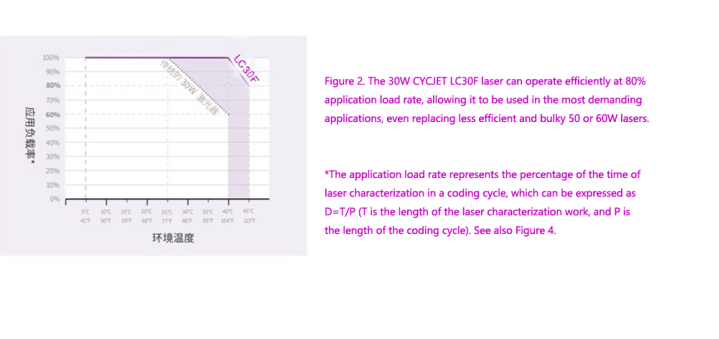 Shanghai Yuchang's patented CYCJET LC30F Code Technology, the characterization speed is 30% faster than the traditional vector method, thus reducing the application load (please refer to Figure 3).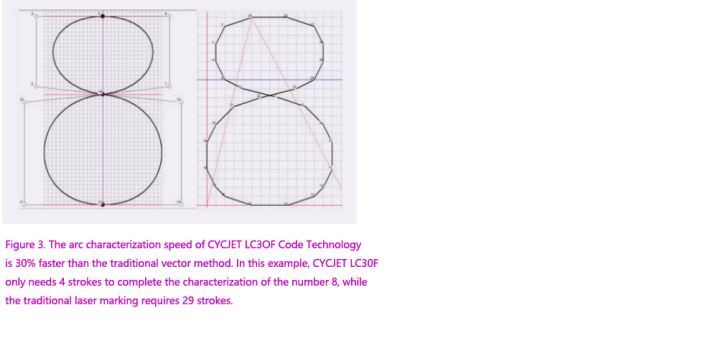 The improvement of the characterization speed means that under the same coding amount (the same coding cycle duration), the CYCJET LC30F can complete coding in a shorter time (the laser characterization time is reduced). Therefore, CYCJET LC30F has more colling time than traditional laser coders, which greatly prolongs the life of the laser tube (please refer to Figure 4).

Proven reliability.

At present, the requirement of in-depth integration of laser coders with complex precision equipment on fast packaging lines means that the laser head must work trouble-free in the environment of dust and splashing liquid and in a wide range of ambient temperature fluctuations.
We have conducted uninterrupted reliability testing of high-volume CYCJET LC30F laser coders for more than 10 years. Every CYCJET LC30F device has withstood extreme environments such as high temperatures of 45°C (highest failure risk temperature), 23 hours/day high duty cycle coding, and component surge currents. Through so far, the test has accumulated more than 6 billion codes, and we confirm that the average trouble-free running time of Shanghai Yuchang LC30F laser coders (including laser tube, scanning head and controller) is 60,000 hours.
Improve operational efficiency
In order to protect the laser from dust and liquids, the CYCJET LC30F laser coding machine is constructed with a modular high-grade stainless steel unit. The standard models all reach the IP55 protection level, and IP65 models are available.
Compared with the traditional laser coders on the market, the CYCJET LC30F laser coders are more resistant to humid and dusty environments, thereby increasing the efficiency and reducing the cost of use.
The equipment maintenance requirements of the CYCJET LC30F laser coders are extremely low, and all electronic components are enclosed in a sealed box, which can be fully cleaned without being affected.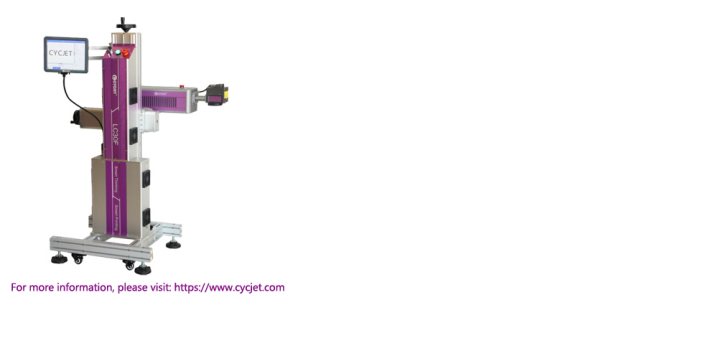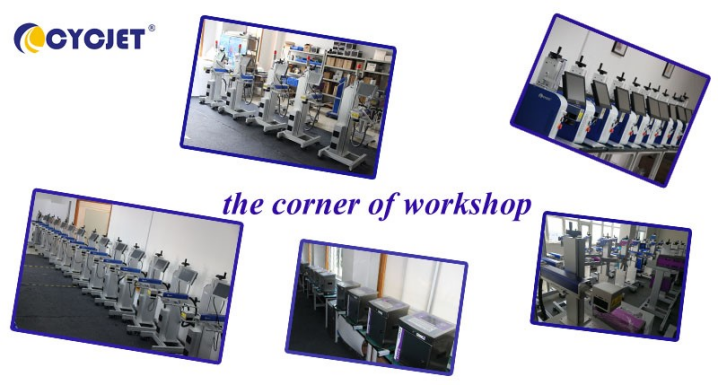 CYCJET is the brand name of Yuchang Industrial Company Limited. As a manufacturer, CYCJET have more than 16 years of experience for R& D different types of handheld inkjet printing solution, Laser printing solution, and portable marking solution, High Resolution Printing solution in Shanghai China.

Contact Person: David Guo
Telephone: +86-21-59970419 ext 8008
MOB:+86-139 1763 1707
Email: sales@cycjet.com
Keywords :
CO2 laser marking machine
CO2 laser printer
Laser marking equipment
Laser coding machine
Laser coding printer
Working video:
https://youtu.be/WPUjWaUPMXs
http://youtu.be/LBg6LjoCF_w