As a manufacturer of inkjet printers, CYCJET keeps abreast of the trends of the times through years of experience in the marking industry, so as not to change in response to ever-changing changes. With the substantial increase in the demand for masks in 2020. Mask manufacturers have higher requirements for mask logo, mask text, mask production date, and mask color printing. In order to meet and solve the needs of mask manufacturers. CYCJET developed colorful facemask UV inkjet coding, with high-definition and realistic color coding performance, many mask manufacturers have become its partners!
Colorful mask UV coding is a kind of identification equipment used by the matching mask machine. Its function is very important. It can independently identify each mask, including model specifications, production date, production batch number, brand information, etc., which can be used at one time. High-speed coding, forming a permanent mark.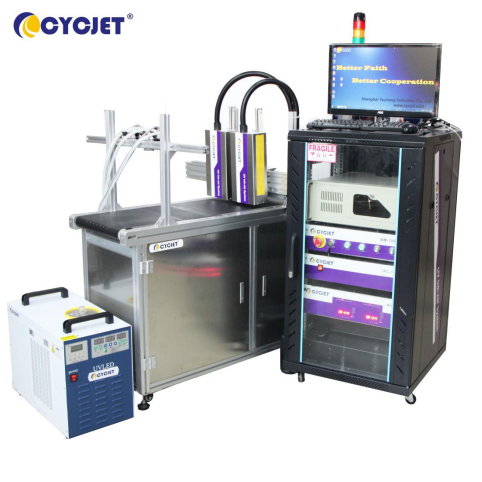 As an experienced inkjet printer manufacturer, we all know that printing basic logos, and CYCJET has gradually discovered that after 2020, more manufacturers will pay attention to the added value and some invisible functions brought by inkjet printers. Application in the fields of association, traceability, and circulation. Therefore, when coding masks, most mask manufacturers will also print their brands and logos on the masks, and some require traceability will also be printed with batch numbers or traceability codes. 
In addition, CYCJET colorful mask UV inkjet printing, you can print in a variety of colors, even green, black, red, blue, and color can be realized for you to meet the needs of various entrepreneurs for mask logos. In addition, the UV ink used also has the characteristics of long-lasting color, and the printed patterns are very beautiful and realistic.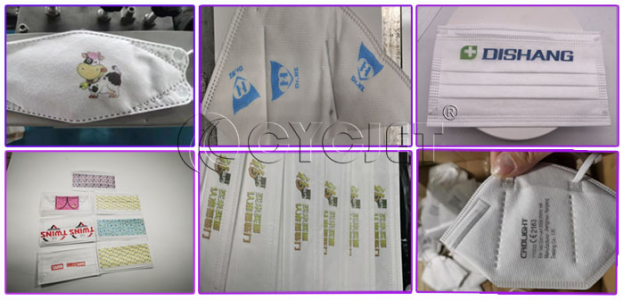 Technical Parameter:
Nozzle type: Ricoh G-en 5 fully imported industrial piezoelectric nozzle Interface type: USB3.0 and optical fiber data transmission
Nozzle life: 100Billion actuation, s per nozzle Printing software: MagicData variable data editing software
Nozzle material: SST, Nickel alloy&Epoxy adhesive
Secondary development: software provides interface to support secondary development
Nozzle width: 54mm (single nozzle)
Ink path control: negative pressure ink path control, positive pressure nozzle cleaning
Ink type: environmentally friendly UV ink
Nozzle rows: 4 rows/2x4 rows
Printing module: 4 groups
Curing type: LED-UV curing
Horizontal accuracy of the print head: 200dpi-1200dpi multiple adjustable
Print head vertical accuracy: 360dpi
Printing speed:600*600dpi/ 110m/min; 4400*600dpi, 60m/min.
Advantages of CYCJET colorful mask ALT502UV Large Character Inkjet printer
* A full range of masks dedicated inkjet printers, G-en 5 series imported UV nozzles for inkjet printing;
*It has a resolution of up to 600DPI, prints highly clear patterns and text logos and other identification content;
* Multiple nozzles can be seamlessly spliced and coded at the same time, and multiple nozzles can be combined according to the production needs of the manufacturer, such as 4 sets of nozzles and 2 sets of nozzles for simultaneous printing to speed up the printing speed;
* Environmentally friendly ink cartridges contain environmentally friendly and harmless substances. The safety guarantee of the quality of the mask is given;
* It is widely used. The color mask printing ALT502UV inkjet printer can be used for mask online coding, conveyor belts, and off-line printer coding.
*Multi-direction to achieve the mask printing content, according to the mask forming direction, rotate and adjust the angle of the printing content for coding.
Colorful mask printing plays an important role on masks. As an inkjet printer manufacturer with many years of experience, CYCJET will always be committed to the development and production of marking inkjet equipment for everyone. To provide more customers with good labeling solutions to solve the pain points of the industry.
CYCJET is the brand name of Yuchang Industrial Company Limited. As a manufacturer, CYCJET have more than 15 years of experience for R& D different types of handheld inkjet printing solution, Laser printing solution, and portable marking solution, High Resolution Printing solution in Shanghai China.
Contact Person: David Guo
Telephone: +86-21-59970419 ext 8008
MOB:+86-139 1763 1707
Email: sales@cycjet.com
Key Word: colorful mask ALT502UV Large Character Inkjet printer
colorful facemask UV inkjet coding
Colorful Mask UV Inkjet Printer
CYCJET colorful mask UV inkjet printing
Video Link: https://youtu.be/fWOQL_w2qwc