Yuchang CO2 Laser Marking Machine Provides a Series of Coding and Marking Solutions for Beverage Manufacturers
2023-05-16source:access:42
As the weather gradually warms up, the production and sales of beverage juices have also ushered in a peak season. In order to solve the problems of anti-smuggling, anti-counterfeiting and traceability in production and sales, our company sincerely recommends CO2 laser marking machinesfor beverage manufacturers.
The particularity of plastic beverage bottles:
The proportion of plastic bottles in domestic carbonated beverage packaging is close to 60%, and plastic bottles are made of PET (polyethylene terephthalate) plastic, so we usually call plastic beverage bottles PET bottles. It has ultra-high transparency, hardness and toughness, is easier to color, can be made into various shapes, and is more suitable for beverage bottles. In addition, the beverage bottle has a layer of PVC material label, the material cost is low, easy to tear, and the tensile strength is high. For this type of plastic bottle, we recommend using a CO2 laser printer for labeling and coding.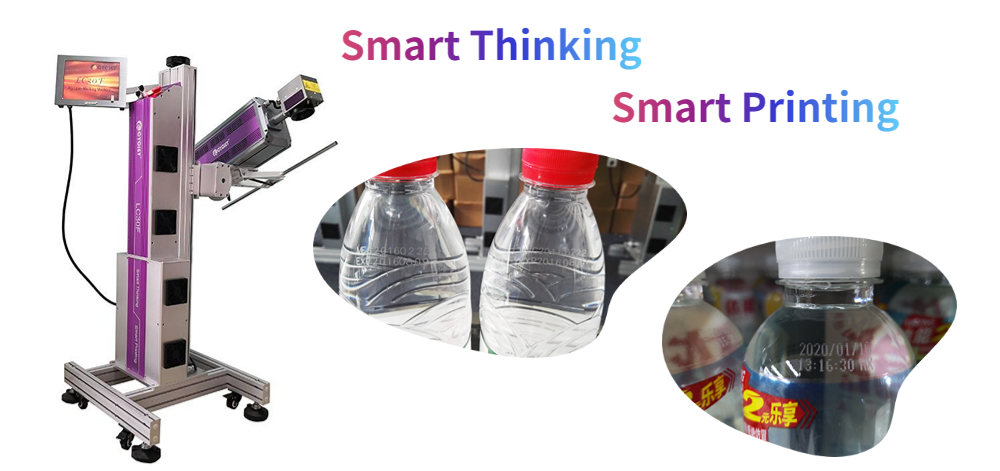 Why choose CO2 laser marking machine?
1. The printing mark effect is clear and stable
Compared with traditional inkjet printer marking technology, laser marking equipment has a variety of wavelengths for manufacturers to choose from (the picture shows the comparison of three wavelengths of 9.3/10.2/10.6). Its laser marking has no consumables, clear, stable and permanent content, strong anti-counterfeiting, fast speed, high yield, no ink pollution, supports multi-angle installation positions and directions, and is easy to operate, even working for a long time can guarantee the quality and life of the machine.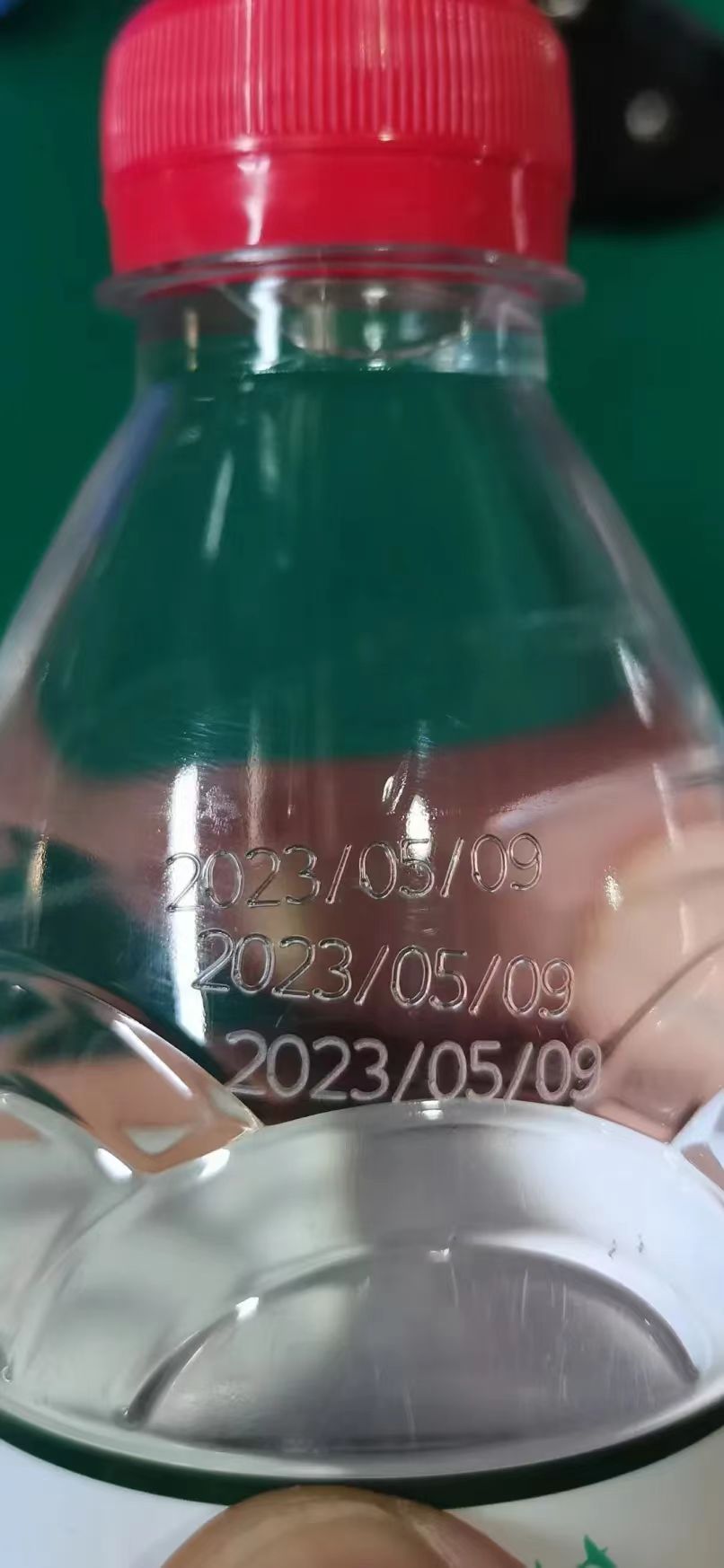 2. Printing of the third phase logo guarantees quality and security
Beverage production date, shelf life, and insurance period are the first concerns of buyers. Therefore, it is particularly important to assign three-stage marks to plastic bottles. For production enterprises, beverage packaging label specifications have increasingly become the "highlight" of the quality department's review, because a slight negligence, the enterprise may face administrative penalties and legal disputes. This laser coding machine can work well even in the harsh environment of beverage production, and it is the best choice for marking the third phase.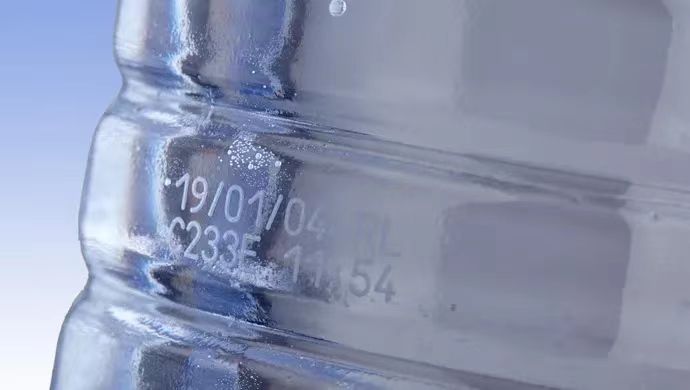 3. Improve production capacity and reduce cost with assembly line
Using CO2 laser coding technology, it can be connected to the enterprise EMS system and ERP system, and through the data distribution of the host computer or industrial computer, the intelligent production of the beverage production workshop can be realized, and the production capacity can reach 20,000 bottles per hour, which greatly reduces labor costs and realizes cost reduction and efficiency increase for enterprises. In the era of rapid development of laser technology, our company is also constantly improving this technology in order to bring better experience to all manufacturers and customers.
Yuchang coding & marking has been focusing on the progress and development of various series of products such as laser marking machines for twenty years. While providing high-quality equipment and services for users in food and beverage, pharmaceutical and medical industries, we have accumulated rich industry experience, we also hope that everyone can buy satisfactory equipment that suits their own production needs when purchasing a marking machine.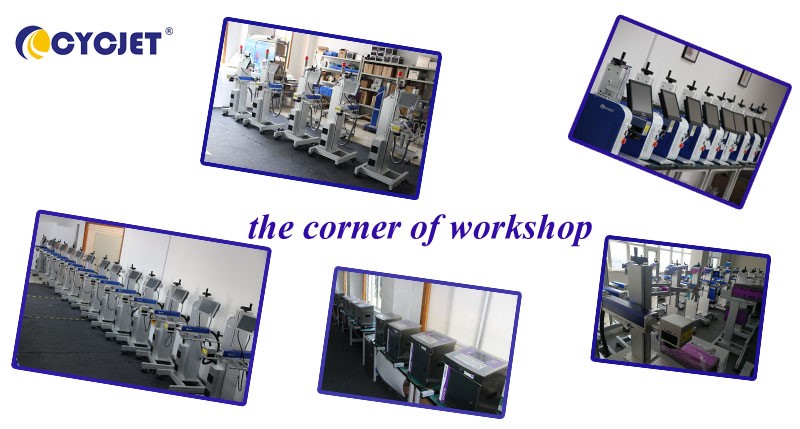 CYCJET is the brand name of Yuchang Industrial Company Limited. As a manufacturer, CYCJET have more than 19 years of experience for R& D different types of handheld inkjet printing solution, Laser printing solution, and portable marking solution, High Resolution Printing solution in Shanghai China.
Contact Person: David Guo
Telephone: +86-21-59970419 ext 8008
MOB:+86-139 1763 1707
Email: sales@cycjet.com
Web: https://cycjet.com/
Reference Video: https://youtube.com/shorts/uF22JAVVu9A?feature=share
Facebook: https://www.facebook.com/100064098422560/videos/267224125615152
Tiktok: http://www.tiktok.com/t/ZTRnyUpBM/
Linkedin: https://www.linkedin.com/feed/update/urn:li:activity:6945310855408336897
Alibaba:
https://www.alibaba.com/product-detail/CYCJET-LC30F-CO2-Fly-Laser-Marking_11000002921999.html?spm=a2700.shop_plser.41413.47.5c087e56tdvKph
Made-in-China:
https://cycjetlaser.en.made-in-china.com/product/IBknPAlMqQpH/China-Cycjet-LC30f-CO2-Laser-Coding-Machine-for-Beer-Glass-Bottle.html
Keywords :
High-speed laser marking machine